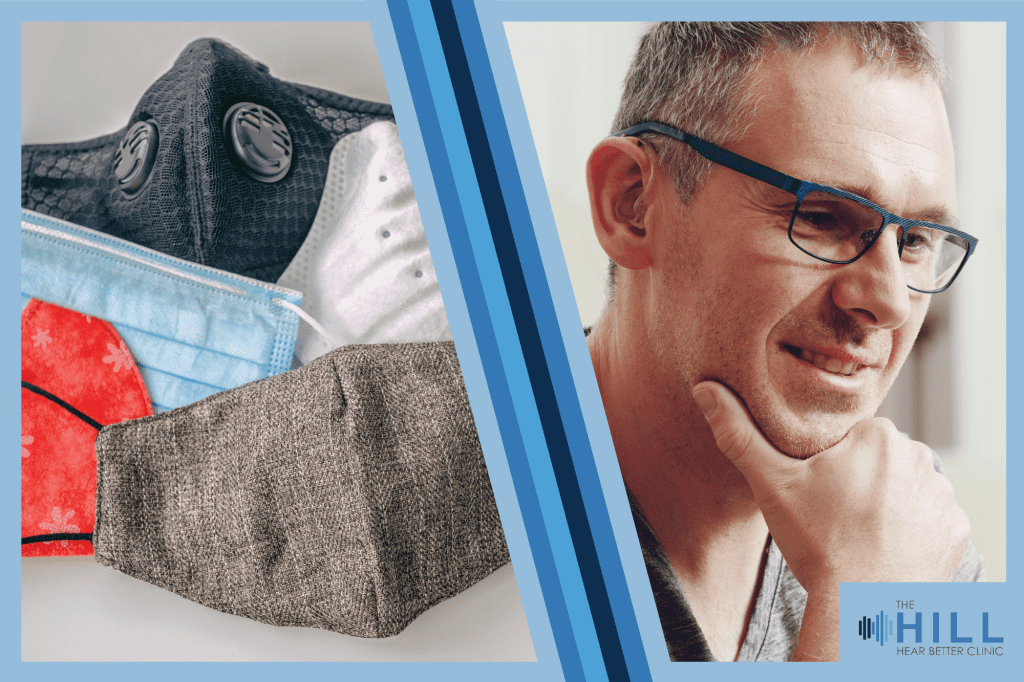 During this pandemic, masks are essential. Whether it?s your loved ones or strangers at the grocery store, wearing a face mask stops a potential COVID-19 infection from spreading from you to others and vice versa. These simple devices can save lives and help put an end to the virus. But while the benefits of masks are obvious, they can make life harder for anyone living with hearing loss. That?s why hearing aid manufacturers have pioneered the mask mode, a frequency-boosting setting that can help you hear muffled voices. But how does it work? And does your manufacturer offer it?
Why do masks make speech harder to hear?
If you have a hearing loss, you know that it's much harder to hear someone when they aren't speaking clearly or they're in a noisy environment. Without a hearing aid, you may also rely on lipreading to fully understand what someone is saying. This pandemic we're in the midst of has made it necessary for everyone to wear a mask – a great thing for public health, but problematic for people with hearing loss in a couple of big ways.
For one thing, masks can muffle speech. Depending on the type of mask and the person speaking, the volume may sometimes only be reduced by a little, but sometimes it can drop up to 30 percent. Even people without any level of hearing loss may have a harder time hearing others. If you live with a hearing loss, then hearing aid or not, that kind of volume reduction may simply be too much. And if you fall back on lipreading to understand speech, most masks also block your view of a speaker?s mouth.
So what does mask mode do, exactly?
You shouldn?t have to sacrifice your ability to understand others for your well-being during these times. One of the top innovations in hearing care last year was the introduction of a mask mode by some of our favorite manufacturers. If you use Starkey or Signia hearing aids, you may have access to these new advanced functions.
Starkey approaches mask-muffled speech in two ways. It?s line of Livio Edge AI hearing aids feature an easy-to-use Mask Mode that intelligently boosts sound in ranges reduced by a mask. Additionally, Starkey hearing aids use AI to make adjustments in real time. Double tap your hearing aid and Edge Mode will conduct an analysis of your acoustic environment. When you?re having trouble hearing someone wearing a mask, Edge Mode will account for the mask type, social distance, and background sound to enhance and clarify their speech.
If you have a Bluetooth-equipped Signia Xperience hearing aid, check your Signia app and open the Universal hearing program. You?ll see a face mask icon at the top of the screen to the right of the volume slider. This is the Mask Mode button. When activated, Mask Mode boosts sound in the 4000 Hz range and reduces background noise to help you understand muffled speech.
What if I don?t use Starkey or Signia?
Face masks won?t be going away while COVID-19 is around. Even when the pandemic is just a bad memory, people may still use masks during flu season or when they're sick. Starkey and Signia are the only two hearing aid manufacturers to offer a mask mode so far, though we?re hoping other brands follow suit soon. But even if you don?t use hearing aids from one of these brands, you aren't out of luck!
Many of our patients love their Phonak hearing aids. And while this manufacturer doesn?t offer a mask mode, it does have something else that can help you hear muffled speech. Check out Phonak?s Roger?, an external microphone device that connects to your hearing aids to improve your 3D perception of sound. It comes in handy in many situations: for example, you can set it in the middle of a table to hear everyone during a family gathering or you can wear it to help boost your hearing aids? capabilities. If you?re having trouble hearing during a conversation with someone wearing a mask, just hold your Roger? device closer to their face (with their permission, of course). It will boost their speech and clarify the conversation for you.
Another option is to find face masks for lipreading. While it can?t help you understand everyone like a mask mode can, it can help you in conversations with the people you live or work with. Give your friends, family, or coworkers a mask fitted with a clear panel over the mouth like one of these and you?ll be able to supplement their reduced speech volume with lipreading.
Interested in a new hearing aid that features a mask mode? Or are you or a loved one having trouble hearing others now that they?re wearing masks? Whether you need a first-time evaluation or want to check out new hearing aids, we can help. Schedule an appointment with us today!