Did you know?
Sixty percent
of those who report
hearing loss are in
the workforce.
Hearing loss and tinnitus are personal. Dr. Michael Hill and his team understand all too well the impact it has on their patients' lives, as well as those around them. For more than three decades, the experts at The Hill Hear Better Clinic have been providing compassionate and comprehensive hearing evaluations. Using the most advanced technology, we find the best solution to address each individual's personal hearing needs.
We are passionate about treating hearing loss because it is a critical part of long-term health and well-being. Untreated hearing loss can lead to a number of health issues, so early intervention is key. Nothing is more rewarding to us than seeing our patients' faces when they hear clearly for the first time.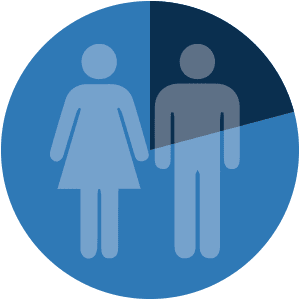 About 20 percent of Americans (48 million people)
report some level of hearing loss, according to the Hearing Loss Association of America. However, estimates indicate only one in ten seeks treatment. Whether improving your hearing gets you back into business meetings, able to hear friends when you're out for dinner or connected with family over the phone, your hearing matters.
Convenient Locations Serving the Tri-State
Contact Us Today and You Could Be Hearing Better Tomorrow