Hearing Loss Evaluation
What To Expect At Your First visit
New patient visits at The Hill Hear Better Clinic typically last 60-90 minutes. During this time, we want to hear your story– to learn more about your history, daily lifestyle and personal hearing needs so we can find the best solution for you.
We will also conduct a comprehensive hearing evaluation using the most advanced technology and equipment available. During your examination, we will walk you through every step of our process so you understand the purpose of each test, what you will see and feel during testing and understand what we are looking at on screen. After your evaluation, we will thoroughly explain your results and our treatment recommendations.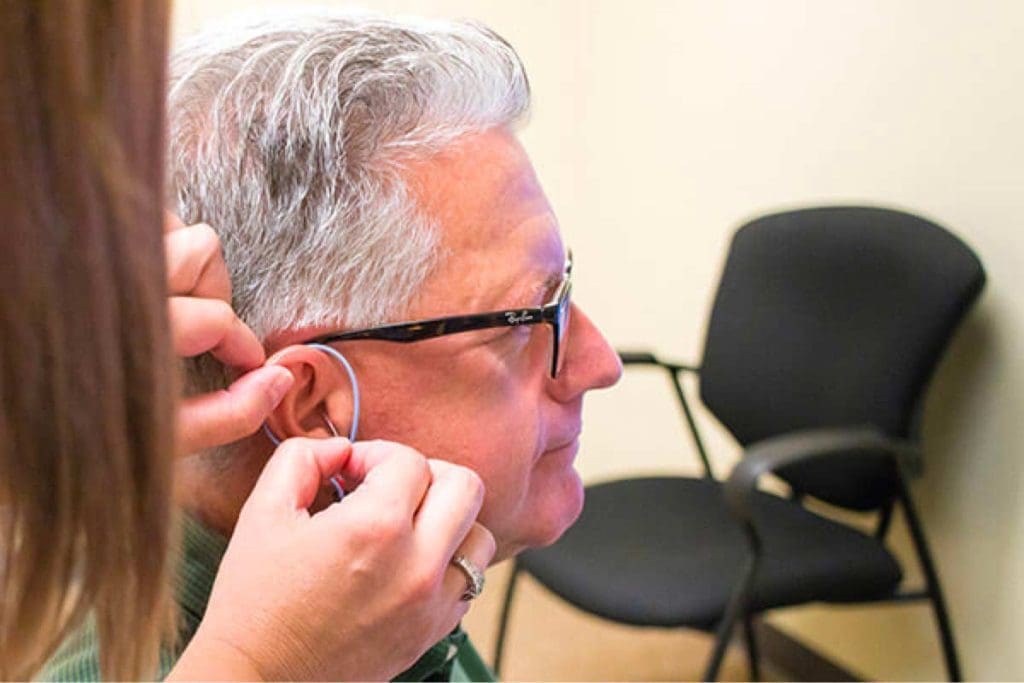 And, if your hearing needs are beyond the care we provide, we are happy to refer you to another expert. We have strong relationships with area medical professionals, including ENTs, to address hearing issues such as acoustic neuromas, cochlear implants and more.
Our mission is to help you with your hearing needs, so please let us know what we can do for you.
Download Our New Patient Intake Form
Take A Tour Of The Hill Hear Better Clinic
Common Questions From New Patients
Find the answers to the most common questions we receive from patients.
How long does the first visit last?
The first visit is usually between 60 to 90 minutes
What do I need to bring with me to my visit?
Your ears! Please bring your insurance plan information, medical records and your doctor's contact information.
We highly recommend that you bring someone with you to your first visit (see below for why this is so important!)
Why Do I Need To Bring Someone With Me?
We share a lot of information and it's good to have another person who can help you retain all of it. What they won't remember, you will, and what you won't remember, they will.
Also, sometimes hearing loss happens slowly over time and you might not recognize some of the symptoms. A person who knows you might have information to help you.
How Much Do Hearing Aids Cost?
At The Hill Hear Better Clinic, we guarantee that our patients are going to have The Best Hearing Possible, so we most often recommend the latest and most advanced technology available, coupled with a comprehensive 3 Year Treatment Plan, that includes all follow ups, annual evaluations, any time visits, and much more. Although we are not a discount option for hearing care, we do have a variety of financing options available to make it affordable for most budgets. We also accept most major insurance plans, however, very few insurance plans cover the full cost of hearing aids, although many insurers provide partial coverage.
Will You Clean My Ears At My First Visit?
Yes, we will look into your ears to see if you have any earwax. If you have any wax, unless there are medical concerns, we will remove it at the time of the visit.
What Charges Will There Be?
In most cases, insurances cover part or all of the cost of a new patient visit. If not, it costs $175 for the 60 to 90-minute visit that includes the comprehensive hearing evaluation.
What Insurance Do You Accept?
We accept most major insurance plans. We also offer self-pay for patients with no insurance or who choose not to use insurance. Before your visit, we recommend that you contact your insurance company to verify your benefits and coverage.
What Does Insurance Cover?
Every insurance plan is different. We will check your individual insurance plan at or before your visit.
What brands of hearing aids do you carry?
We have access to all major hearing aid brands. Depending on your hearing loss and lifestyle, you and your audiologist will determine the best one for you.
Contact Us Today And You Could Be Hearing Better Tomorrow
Contact Our Audiologists